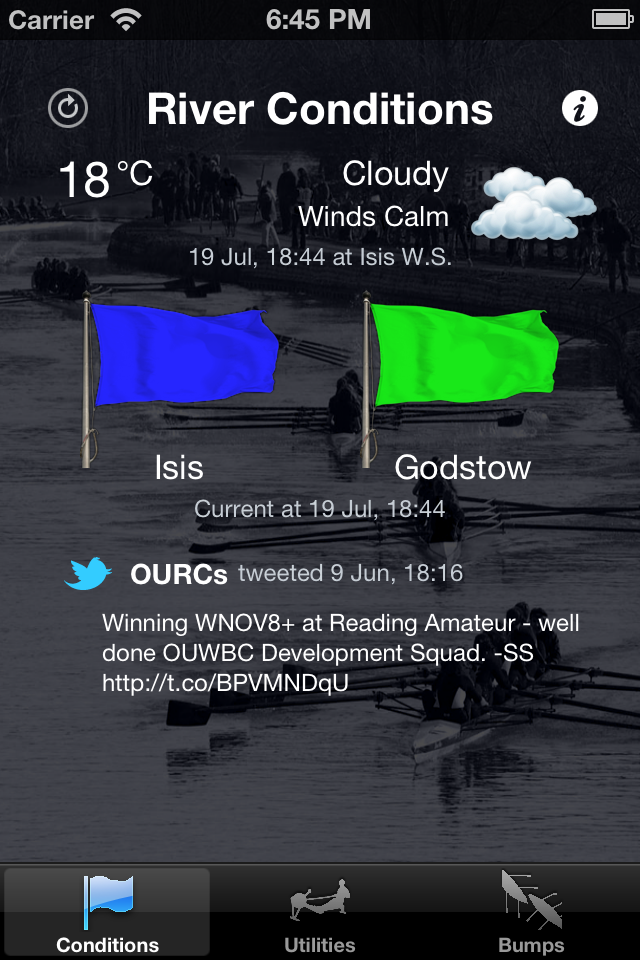 Every sport is a subculture, and rowing is no exception. Rowers the world over obsess over their erg scores and can wax eloquent on how to set the boat for hours. There's even a Tumblr. But in Oxford collegiate rowing, the eccentricity is even more pronounced. We obsess over two things: the flag status, which tells us whether the river is rowable, and the bumps charts, which show each college's history in the famous bumps races.
Originally, the flag was flown from a boathouse overlooking the river, and bumps charts were painted on boathouse walls and kept in notebooks. Over the past couple of decades, official and unofficial online versions appeared, and a rower's morning ritual came to include checking the flag status online to determine whether they're needed at the river. While this was certainly an improvement, there had to be a better way. Discussing this with Susan Graham, another Wolfson rower and Oxford engineering student, we realized we'd independently come to the same conclusion: what the Oxford collegiate rowing community needed was a mobile app.
Susan and I got to work. We founded Feather & Square, LLP and released OxBump for the iPhone. In time, we would release three other apps, add iPad compatibility, and develop a host of additional features. We partnered with a radio station, were featured by the Met Office and Information Aesthetics, and our apps pop up in pubs OxBridge-wide. A fuller accounting of the apps can be found on the F&S Products Page, but there are a few screenshots below if you're interested.