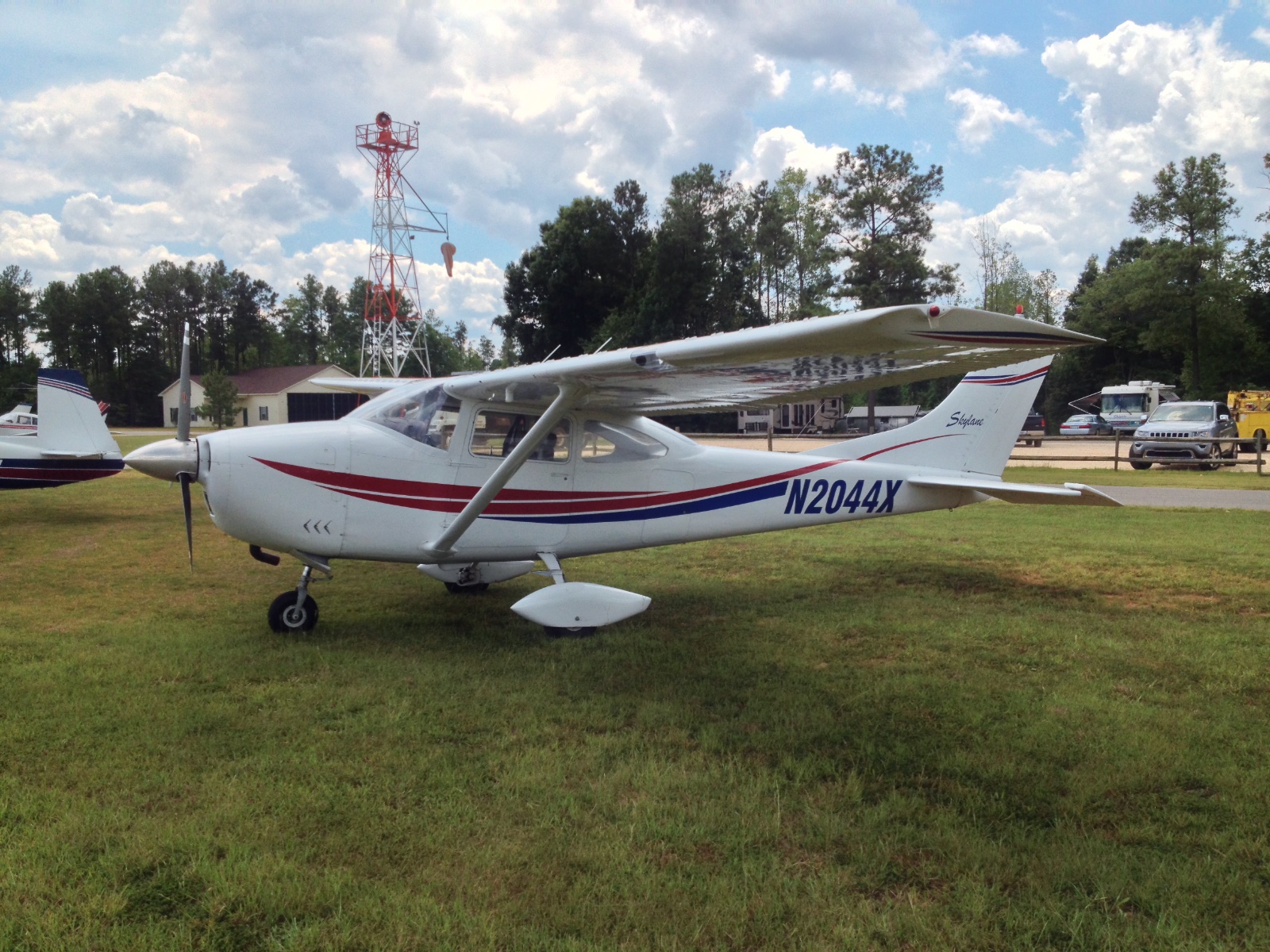 Hello! Every once in a while, I'm trying to arrange a flight with someone, and there is a lot of information to be shared and questions to be answered. This is meant to be an FAQ-ish list of things to know and think about, though the details might be different for any given flight.
What airplane are we flying?
Most of the time, we'll be flying N2044X, a Cessna 182 "Skylane" parked at Raleigh-Durham International Airport. 44X is a four-seat, single-prop plane. It cruises a little over 150 mph, and will fly for 4-5 hours on full tanks of fuel. In addition to your pilot (me!), it will carry a decent amount of fuel plus 500 pounds of passengers and cargo. For shorter flights, less fuel can be traded for more load in the cabin.
Every once in a while, I fly N7746T, a Cessna 172 "Skyhawk" parked at Lake Ridge, a beautiful grass strip in north Durham. 46T is also a four-seat plane, but its weight limits are much more constrained. It flies slower, but great visibility makes it perfect for local sightseeing or short trips for a couple of people.
Where are we going?
The sky is the limit! If you have a particular destination in mind, check skyvector.com to see if there is a small airport nearby. There are more airports out there than you might expect. My common short flights include:
Fly around Duke/Durham and see the sights (30 minutes to an hour)
Go grab barbecue in Smithfield, NC or Carthage, NC (1-2 hours of flying, depending on sightseeing)
Sneak out to the beach at Ocracoke (about an hour each way)
Escape to some hiking in the mountains (about an hour and a half each way)
Longer flights, usually a full-day trip or overnight, include:
Hop up to Washington, DC (about an hour and a half each way)
Check out Asheville, NC (just under two hours each way)
Head to Charleston, SC or Philadelphia, PA (about two hours each way)
Check out the NYC skyline (two and a half hours each way, plus sightseeing)
Where do we meet?
We'll take off from RDU, but driving up to the hangar requires a security pass. So, options include:
We can meet at the Starbucks at Alexander Place Promenade (7854 Alexander Promenade Pl, Raleigh, NC 27617) and carpool from there,
Especially if you're bringing luggage, you can meet me in the lobby of Atlantic Aviation RDU (1750 E International Dr, Morrisville, NC 27560) and we can load the plane from there, or
If we're coming from Durham at the same time, we can carpool.
What should I wear?
The only flexibility / activity you'll need to plan for is the same as getting in and out of the back seat of a 2-door car. As far as temperature, the plane is sort of like a 1960s car: There is no air conditioning, so it will be quite hot on the ground in the summer. But it does cool off at altitude, so bring an extra layer. The plane does have heating, but it takes a while to warm up, so dress in layers in the winter.
What should I bring?
If you have sunglasses, bring them. If you're a camera person, bring that. (I also have video cameras that attach outside the plane, so let me know if you're interested in the panoramic experience.) I'll provide headsets so we can all talk during the flight. If you have a favorite drink or snack, feel free to bring it; there are no liquid restrictions. Please no (unprescribed) controlled substances or firearms without having a very thorough discussion with me first.
What about comfort?
Most people find small planes to feel less claustrophobic than economy seats on commercial jets. The ability to look out of bigger windows and see out the front of the plane relieves some of the "loss of control" feeling that you get on an airline.
Small planes do sometimes feel a little bumpier than the airlines, but it would be unusual to be as bumpy as driving a Jeep on a dirt road. The turbulence depends a lot on the weather, season, and time of day. So while it's not completely predictable, I can probably give you a warning in advance if we're looking at a particularly bumpy ride.
The biggest difference between our flying and airline flying is that, if at any point anybody in the plane is unhappy, we can land somewhere within about 15 minutes and regroup.
What about weather?
Of course, weather is very important in small airplane flying. (That's probably the biggest reason to never plan on a small plane as your only option to get somewhere you really need to be.) I like to divide weather into a few categories:
Hopefully, we'll get beautiful, smooth air. Especially in the summer, this is most common near sunrise or sunset.
If it looks like there may be a few bumps, I'll let you know, and we'll plan on going unless there are objections. Bumps are relatively unavoidable on sunny summer afternoons.
If it's going to be less-than-fun weather (more than a little bumpy, clouds that mean we can't see out the windows well, more than a little rain, etc), I'll plan on cancelling unless you really want to make it to the destination. Flights in this weather are safe, but not as much fun, especially for a non-pilot.
Obviously, if it's unsafe weather (clouds with ice, thunderstorms, crazy winds, fog all the way to the ground), we won't fly at all.
Weather forecasts — in the detail needed to fly — take a little longer to "firm up" than the typical news station forecast. Usually, we get a good idea of the weather two or three days beforehand.
Can we fly at night?
Yes! Flying at night is often beautiful, and gives the best chance of smooth air. It's important to know that some airports — including several airports on the Carolina coast — close after sunset. So for a day trip to the beach, plan on leaving the beach before sunset.
What about safety?
General aviation (private pilots flying small planes around, like we're planning to) is 10-20 times more dangerous than driving a car, depending on how you do the calculation. Compare that to airline flying, which is about 5 times safer than driving. So if we're going to fly for a couple of hours, you can consider that — in raw numbers — to be adding the risk of a couple of long road trips to your life.
Unlike driving, much of the risk in flying is avoidable. While significant risk in driving comes from the bad behavior of people in other cars, collisions between planes in the air are very rare. A surprising number of general aviation accidents are caused by running out of fuel, flying into bad weather without training, and doing unadvised stunt flying. I will check the fuel before we take off; I have the training to fly in low-visibility weather; and I will not be doing any loops above my neighbor's barn.
When walking around an airport ramp (where are the planes are parked), there are three important safety rules to keep in mind:
propellers can start spinning at any time
spinning propellers are invisible, and
you don't want to get hit by a spinning propeller
Stay away from the front end of airplanes unless you know what you're doing. I emphasized propellers in the rules above, but the same goes for jet engines. If you're walking in front or behind a jet engine, stay at least 30 feet away.
Anything else?
This is just a list of common questions to get you started. I'm of course happy to answer any questions, and will talk you through everything happening before, during, and after the flight. I look forward to flying with you!